This is a sponsored article from SustainabilityTracker.com member Underworks.
Did you know that socks are one of the least donated, but highest demand items amongst the homeless community in Australia? It makes sense when you think about it, who would want to donate their old socks? Well, we intend to change that.. And fast!
At Underworks, we've partnered with charities such as Food Bank, The Salvation Army and St Kilda mums to provide a steady supply of brand new socks to the homeless, displaced and most in need in our community.
You can help us to raise awareness for this extremely worthy cause by posting your silly sock pic on social media with the #igiveasock. We give a sock, and you should too!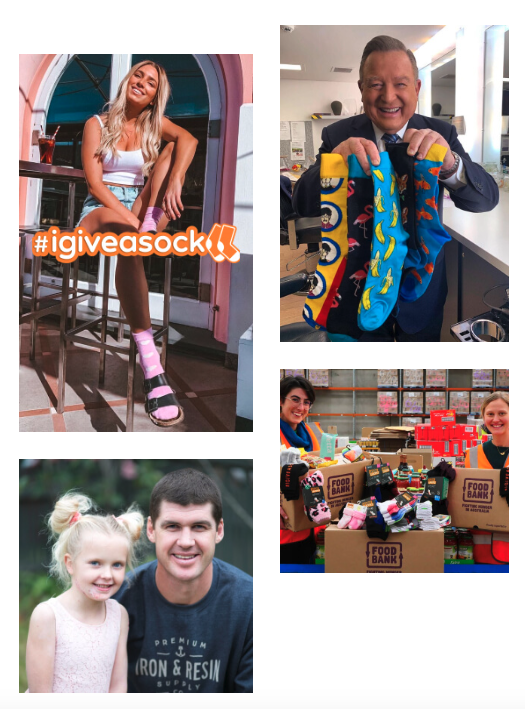 Australians can 'give a sock' to vulnerable people doing it tough this winter by simply sharing a post on Instagram. The I Give A Sock campaign is simple – in exchange for every post shared on Instagram in July, either via a user's feed or story, we will donate a pair of socks or an essential clothing item to those in need.
Underworks has 20,000 pairs of socks ready to donate, along with many other essential clothing items, including underwear and thermal under layers. The socks will be distributed through Underworks' charity partners, including The Salvation Army, Foodbank Victoria, Lighthouse Foundation and Thread Together.
Underworks CEO Sam Todaro said the campaign runs every year in July, with over 30,000 pairs of socks donated in the past 12 months alone. This year's theme is focused on paying it forward. "The I Give A Sock campaign allows people to play a meaningful part in helping vulnerable Australians stay warm this winter," Sam said. "All you have to do is share an Underworks post on your Instagram feed or story, tag a friend, use #IGiveASock and tag @underworksaustralia. We'll then make a donation."
Tens of thousands of Australians are currently experiencing extreme poverty, with the nation's cost-of-living crisis plunging households into financial stress. New figures show that 93 per cent of people who reached out to The Salvation Army for help in the past 12 months struggled to afford basic living necessities, including paying for essential costs such as housing, food, utilities, health and fuel. According to Thread Together, more than 3.5 million people do not have access to essential clothing, which equates to around 1 in 8 adults and 1 in 6 children. Charities have called for more donations of socks and underwear, as socks in particular were among the least donated items. "We know from our charity partners that socks can be lifesaving items," Sam said. "Most people don't donate their old socks to charity – which is why there is a huge shortage. Basics like socks and underwear are things most of us take for granted and we want to change that. "We are committed to paying it forward and encourage everyone to jump on board I Give A Sock and make a difference with us."
Click here to learn more about getting involved with #IGiveASock

This is an article from a SustainabilityTracker.com Member. The views and opinions we express here don't necessarily reflect our organisation.