This is a sponsored article from SustainabilityTracker.com member Dilmah.
In 2018, founder of Dilmah Tea, Merrill J. Fernando chose to rewild an area on a Dilmah tea estate located in Endana to create a nature corridor. The Endana Tea Estate, located between two Protected Forest Reserves – Iharakanda and Walangkanda, meant that it could provide a strong link to connect these two patches of protected forest separated by tea lands and human settlements. Found close to Sri Lanka's only rainforest: Sinharaja, the move to connect the two forest reserves would allow plant life and wildlife to make their way across to the other reserve, leading to higher biodiversity in that area.
The Endana Nature Corridor is a 3 km-long forested pathway established with the help of a team of research scientists led by Professors Nimal and Savithri Gunatilleke, and Dr Nalaka Geekiyanage in the Rathnapura District of Sri Lanka. The corridor is spread across 60 acres taken from the Endana Tea Estate, 2.1 acres taken from active tea plantations, and a few more acres of abandoned tea lands in the area.
What's a Nature Corridor?
Due to human activity and development, most known National Parks and Forest Reserves in Sri Lanka are scattered and isolated. When animals want to move from one forest to another, they must brave roads, highways, and human populated areas at their own peril. However, a Nature corridor, also known as a biodiversity corridor, can act as a bridge for animals and even plant life (think seed dispersal) to safely cross from one location to the other.
What are Nature-based Solutions?
Nature-based solutions use nature's principles to address contemporary challenges that we face as a society, while restoring or safeguarding biodiversity and human well-being. NbSs spring from the knowledge that healthy ecosystems can provide services to humans much more than ailing ecosystems.
What factors make the Endana Nature Corridor a positive natural solution?
1. Inspired by nature: The planting method of Endana Nature Corridor mimics the natural succession of the forest floor. This would ensure that over time a forest comes up, is sustainable and can evolve on its own. This method is officially known as the Relay Floristics Method and is a tried and tested method based on science-based forestry principles. It has three phases. First, sun-loving, fast growing, pioneer tree species are planted to restore the bare or degraded land. In the next phase, once pioneer species have sprung-up we can plant native trees that require neither too much sun or shade. By now the forest is taking shape and is ideal for endemic varieties such as Sri Lankan Olive and Breadfruit to be planted.
2. Contributes to Biodiversity
The two Forest Reserves, Walangkanda and Iharakanda, are home to many creatures and plant life. When a baseline survey was done of the proposed area of the nature corridor 61 tree species and 201 animal species including 34 endemic species were recorded. Among them a total of 53 species of butterflies, 16 species of dragonflies, 12 species of amphibians, 28 species of reptiles, 03 species of fishes, 74 species of birds and 15 species of mammals have been recorded. Around 20 of these animal species are threatened. Therefore, the Nature Corridor will conserve and encourage an increase in numbers of tree and animal species on the site by allowing safe passage to migrate from one to the other leading to higher biodiversity.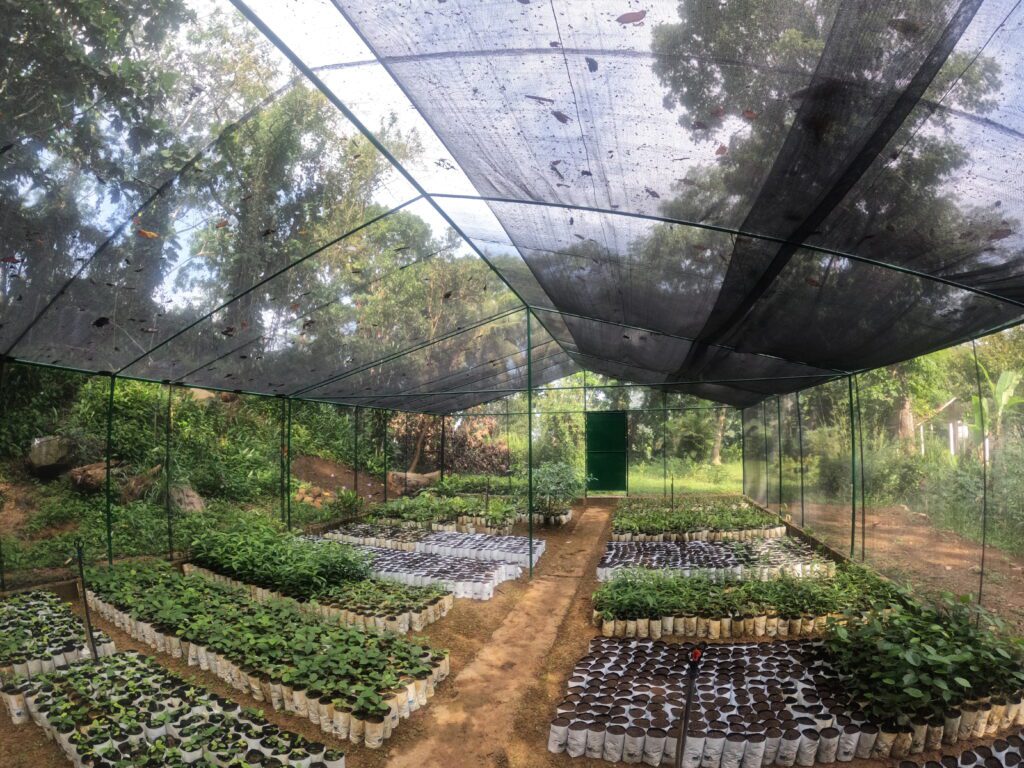 3. Benefits to People
The ENC project adopts an approach that requires community participation for long-term sustainability of the project. The Endana Estate community and residents live close to the forest and use forest resources for their livelihoods and activities such as cooking and obtaining animal fodder. Therefore, it is important to involve them in the project to ensure that forest resources are used sustainably going forward. Following a long-term survey of the villagers and their home gardens, the community was introduced to programmes such as beekeeping, animal husbandry and organic farming. After monitoring their progress, participating community members who have met specific criteria will be rewarded through educational scholarships for their children and monetary awards.
4. Ecological Benefits that can be measured
Imagine how much it would cost to generate the oxygen that we breathe for free? Ecosystem services have an economic value. If we do not protect the sources that produce the air, water and food and we let them degrade it would be more costly to restore than it would be to protect them. A calculation made in 2011 estimated that the ecological wealth of this corridor would be around $382,362.
5. Cost Effective
Since forests provide certain services to humans, strengthening biodiversity further improves those services. For instance, letting a forest take over this plot of degraded tea estate land would improve the water table levels in this area.
Endana Nature Corridor is one of several initiatives under Dilmah Teas Green Recovery Programme, which aims to improve green cover in several parts of Sri Lanka – a goal in line with the UN Decade of Restoration. Dilmah is invested in environmental conservation through its sustainability arm Dilmah Conservation Learn more about the Endana Nature Corridor here.
This is an article from a SustainabilityTracker.com Member. The views and opinions we express here don't necessarily reflect our organisation.