This is a sponsored article from SustainabilityTracker.com member Eco Interiors.
It's no secret that textile waste is a BIG issue. Over 300, 000 tonnes of textiles are discarded each year in NSW alone. Luckily, there are some fabulous brands working hard to address this waste in the fashion space, but textiles are used for more than just our clothes – textile waste exists in the home furnishings arena too. Soft furnishing items, such as throw cushions, are often changed with fashions and seasons, just as our clothes are.
Eco Interiors is working hard to offer a more environmentally friendly alternative to consumers in the soft furnishings space. A cornerstone of the company's sustainability policy is to demonstrate the value of textile resources at all stages of their life, right down to the very last fibre. They are embracing the concept of a circular economy, where resources are kept in use as long as possible. This approach not only minimises waste, but also reduces the demand for raw materials, energy consumption, and in turn carbon emissions.
So how do they actually do this? Eco interiors takes a 3-stage approach to implementing their company's circular economy policy.
Stage 1: Sourcing
Eco Interiors actively seeks out opportunities to use small quantities of left over fabric – reusing and repurposing materials to give them a new lease on life instead of sending them to landfill. By using predominantly remnant/dead stock fabric, off cut pieces from other manufacturers such as upholsterers and discontinued sample fabrics from textile companies Eco Interiors uses raw materials that other companies see as waste. 'It's great to see more and more companies embracing recycling of their unwanted textiles', says Sarah Bos, owner of Eco Interiors. 'There are some incredible companies in Australia achieving world firsts in textile recycling, but the truth is the vast majority of unwanted, small quantity fabric goes to landfill. At Eco Interiors we strongly believe we need to value those raw materials no matter what size or quantity they are. We have set ourselves the ambitious target of diverting 1500kg of textiles from landfill by 2028 and we would love to increase this goal as we grow.'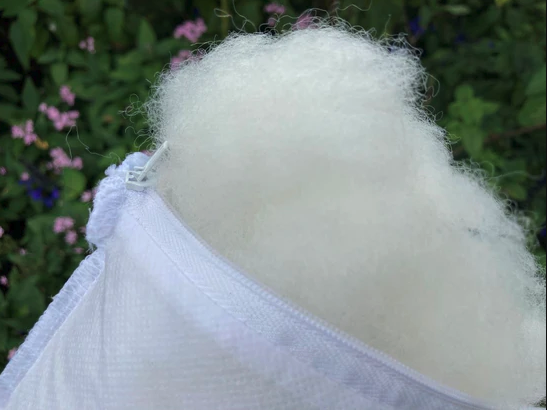 Stage 2: Production
By hand making all their products in their Sydney studio Eco Interiors are able to ensure high quality products are produced every time and back them with a workmanship guarantee. This local production also reduces carbon emissions and allows them to keep strict control over the use of all fabric, including their own waste output. All fabric scraps, no matter their size, are kept and either used to create new unique pieces, or as fill in other products.
Stage 3: End Of Life
The final stage of the circular economy approach is the one most often overlooked by commercial companies. For Eco Interiors a commitment to waste management doesn't end with sourcing and production, it extends to taking responsibility for the end-of-life phase of everything they have produced. From the outset Eco Interiors knew this was imperative to producing a truly environmentally responsible product and at the start of 2023 they implemented a full take-back scheme for all their products. Through this scheme they reward customers with discount vouchers for returning their products, no matter their condition. Through this scheme Eco Interiors can ensure that all their products are rehomed, reused or recycled and they hope to one day have the capacity to extend this to soft furnishings produced by other companies too.
'Ideally we hope when our cushions are returned to us that they are well loved and ready for recycling,' says Sarah. 'But we understand that, just like your clothes, sometimes you want to change the look or feel of your home. We offer a way for our customers to do this, impact free, through our take back scheme. Cushions returned to us in good condition are re-sold on our website via a second-hand market place. Cushions that have been a little more 'loved' are either deconstructed and used in part, if appropriate, for new products or recycled into fill for other products'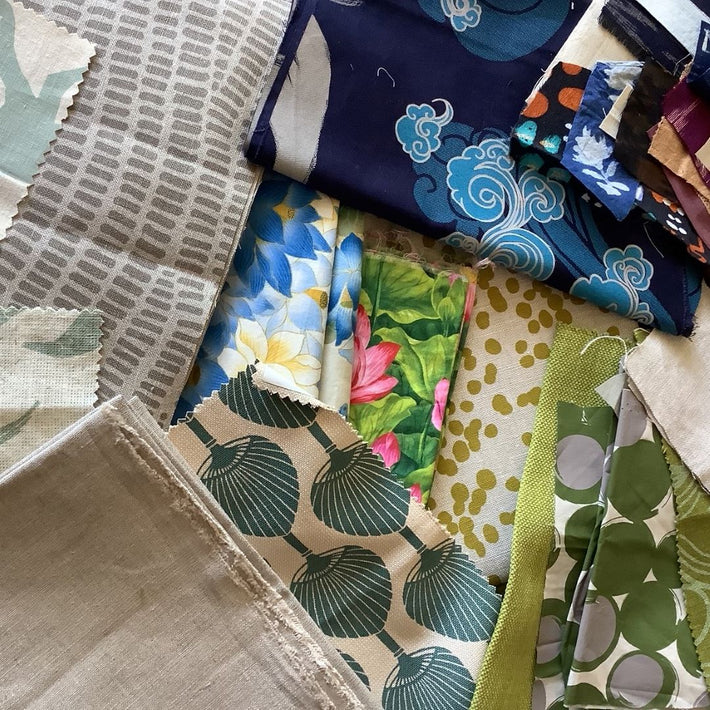 Aside from the environmental benefits, this intimate and boutique approach to textile use also results in high quality cushion covers which are often unique one-off pieces. 'We try to create the sort of products you won't find on the shelves of ordinary furniture stores, and we also offer a custom-make service,' says Sarah. 'There is nothing more rewarding than helping a customer achieve the exact aesthetic they are after.' By creating truly unique pieces Eco Interiors enables their customers to curate individual spaces which embody their own tastes and personalities, this in itself brings an added sense of value to the products they have purchased.
At the heart of everything Eco Interiors does is the belief that the human spirit is enriched by living in a beautiful environment; both in the form of a welcoming home which is an extension of oneself but also in terms of our beautiful planet whose precious resources need to be valued and reused. As Sarah sums it up, 'It is up to us to create the environment we want to live in.'
Find out more about Eco Interiors Sustainability efforts here.
This is an article from a SustainabilityTracker.com Member. The views and opinions we express here don't necessarily reflect our organisation.