The Sustainable Transformation Podcast offers a behind-the-scenes look at the road to sustainability in business. We unpack the ideas that drive change, decode the jargon, and meet visionary leaders who are transforming their organisations for the better.
Coles is one of the most important retailers in the country, with 17 million transactions per week and a loyalty program that reaches 80% of Australians. So what role do they play in our transition to a sustainable future, and how are they tracking?
In a refreshingly candid conversation, Kiarne sits down with Bill Wall (Lead Sustainable Sourcing Manager – Seafood) and Caitlyn Richards (Group Sustainable Sourcing Manager – Strategic and Sustainable Sourcing) to look at what has been achieved, what's high on the priority list, and where to next for the large supermarket. We learn how Cole has expanded its sustainability teams and expertise in recent years and moved from a "sustainability strategy" to a "sustainable business strategy."  If food waste accounts for about 6% of global greenhouse gas emissions, and as Caitlyn points out, if we put food waste in the context of national emissions, it would be the third largest emitter in the world (source: Our World in Data). What role do supermarkets play in reducing waste from farm to store and at home on the pantry shelf?
Coles understands its responsibility to not only offer their customers socially and environmentally sustainable options, but also to offer convenience and value seekers a choice. It is a delicate balance, which is even more complex due to the varying consumer knowledge of food and packaging consumption. Providing sustainable options and sharing knowledge with customers, while ensuring that customer needs lead the product offering, is a difficult task. Understanding how Coles makes this transition will offer listeners an eye-opening view of what it takes to lead the challenge. This is an episode NOT to be missed.
Podcast Links: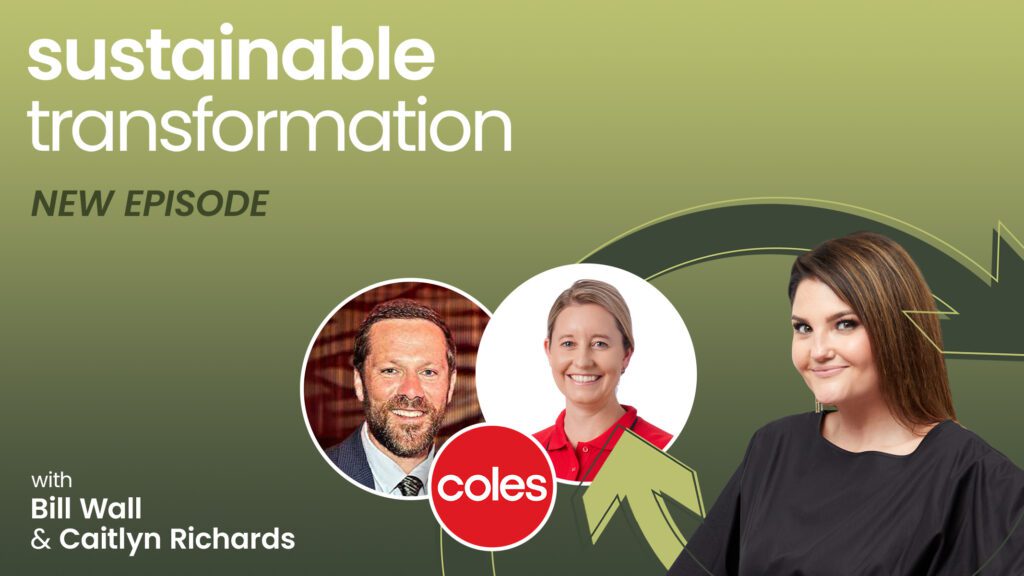 Produced by the Nova Entertainment Network, season one will bring new episodes fortnightly and feature guests from Country Road, Energy Locals, Banksia Foundation, Telstra, Bared Footwear plus more. Tune in to the Sustainable Transformation podcast, available now on your favourite podcast platforms