This is a sponsored article from SustainabilityTracker.com member Australian Bedding Stewardship Council.
Throughout the year in the Australian market, there are peak times for mattress purchases based on sales promotion calendars, and mattresses are a regularly heavily discounted and advertised product category. This surge in sales leads to an increase in the need for consumers to find options for disposing of their old mattresses. Often consumers forget to think about this aspect before they have made their new purchase. So why is it essential that we strive for every mattress to be recycled and diverted from landfill? Why should retailers offer recycling services where they are geographically available, and why should salespeople encourage mattress recycling by asking their customers the question – "Do you have an old mattress to be disposed of?"
1. Recycling encourages corporate social responsibility within business
A great reason to encourage consumers to seek retailers offering a recycling service option is that it is part of corporate social responsibility, contributing to positive environmental outcomes and the good a business can do to give back while selling great products and providing practical service options (note that recycling is generally not a free service). Standing out in a competitive mattress market on price or range can be difficult but showcasing a level of corporate social responsibility and solving consumers 'old mattress' problem helps them differentiate between their purchasing options and feel good about the positive impact of their purchasing decisions.
2. Recycling can create meaningful employment opportunities
A great reason to recycle every mattress is that recycling can create job opportunities. There are mattress recyclers, which are also social enterprises, which create meaningful jobs for people who face barriers to employment, as they are given a real opportunity to work, learn and grow in their careers, often for the first time as employees. Jobs for people experiencing barriers to employment are great for our communities, reducing reliance on social security, building employment skills, and creating sustainable onshore jobs.
3. Recycling can help our planet
Mattresses are big, bulky items that take up valuable and expensive space in landfill. At the end of life, a queen-size mattress weighs about 30 kg. Approximately 1.8 million mattresses are disposed of each year, equating to 54,000 tonnes. Currently, it is estimated that as much as 37,000 tonnes still go to landfill, consisting of full mattress units, shredded mattresses, and components with no recycling opportunity. Landfills cost local governments, ratepayers, and businesses millions of dollars each year to maintain, and viable landfill areas are running out quickly!
Landfill is not a good outcome for the environment, as resources with potential value are buried and take many years to break down, instead of being processed and recycled into new products. Due to their size and construction, mattresses don't compress well in landfill and can cause extensive term issues, including resurfacing due to their 'buoyant' nature, subsidence, equipment damage and even fires. They also take up valuable airspace that could be used for compostable items, such as bio-waste.
In fact, the ACT has banned the landfill of mattresses, and others are trying to follow suit. Life Cycle analysis carried out abroad has shown that recycling every mattress is a significantly better environmental result than landfilling it.
4. Mattresses include resources of value that can potentially be reused to create new products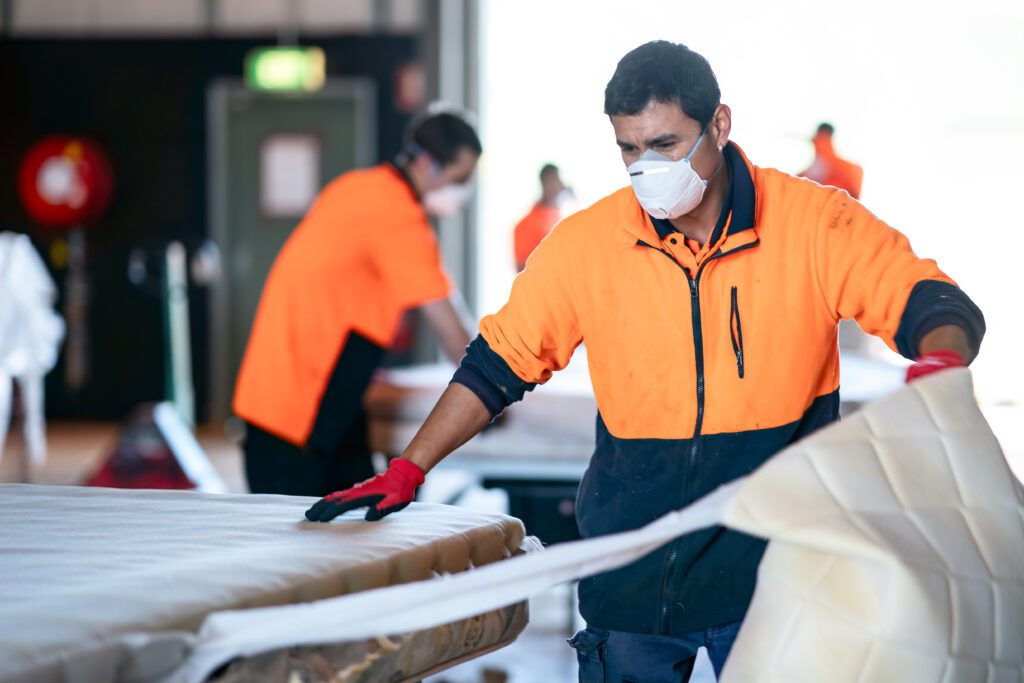 Australian mattresses are made up of multiple materials. Some have value, such as steel and polyurethane foam, depending on location, but others currently with limited re-use opportunities that make a material difference, such as the quilted layers and memory foam, invariably end up in landfill. The Australian Bedding Stewardship Council (ABSC) is looking for opportunities to improve mattress recycling rates by finding value in recovered materials and encouraging more recyclers to enter the market to extend to a national footprint, enabling all Australians to recycle responsibly.
Tips for Consumers
If you are a consumer looking to purchase a new mattress, think about what you will do with your old mattress. Seek retailers that offer recycling services who can deliver your lovely new mattress and take away your old one for recycling, or head to ABSC to find an ABSC-approved recycler that services your area.
Tips for those in the business of beds
Get into bed with the ABSC! The Australian Bedding Stewardship Council (ABSC) is a not-for-profit entity established in 2020 to tackle the problem of end-of-life mattresses in Australia to keep them out of landfill and off our streets. It is a voluntary, industry-led product stewardship scheme that works with supply chain, manufacturers, importers, retailers, and recyclers to move towards a circular economy for mattresses as the most pressing product to be dealt with. So, why not be that forward thinking business that cares about its impact on people and the planet? Reach out to the ABSC to talk about membership and participation to be part of the solution for the future.
This is an article from a SustainabilityTracker.com Member. The views and opinions we express here don't necessarily reflect our organisation.